Commercial Radiator
Since 1946 Commercial Radiator has served Fresno, Kings, Madera and Tulare Counties. Commercial Radiator repairs the largest industrial radiator to the smallest automobile radiators. They have made a special name for themselves in the Central Valley for turning out first rate repairs, utilizing on the highest quality products and prompt dependable service. One feature of their business has been their willingness to "pick up, repair, and deliver."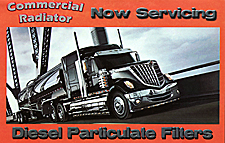 Commercial Radiator will drive to your place of business, pick up your radiator, have it repaired, and return it to you, in most cases, the same day. You'll find their rates to be, at all times, fair and reasonable.
Commercial Radiator specializes in truck, tractor, and automobile radiator repair. If you own a business or have the responsibility of keeping a fleet of vehicles in good cooling repair, speak with Commercial Radiator today. We have a special rate for fleet customers.
Commercial Radiator of Fresno is proud of our high tech repair staff. There is simply no crew in the Central Valley that can match the skill, knowledge of the industry, and experience that you'll find at Commercial Radiator.
There's only one name you need to know in radiator repair and service. It's Commercial Radiator. We've been there, We'll be there for you!
Conveniently located just off Highway 41 between North and Central at 3342 S. Elm Avenue.